NEW ENGLAND'S TOP WEDDING VIDEOGRAPHY COMPANY
Cinematic Wedding Videography
Click Below To View Our
Wedding Videography Packages
Watch Our 2022 Wedding Videography
Highlight Reel
Wedding Videography

in NH/MA/ME/VT/RI/CT
So you are looking for a wedding videographer? And your wedding is in New England? Therefore look no further. Because LiFi Media Production is the best wedding videography company. Most importantly, we capture professional audio. Therefore creating a film that will move you to tears. But we are wedding videographers AND editors. Therefore we have been through all stages of the process.
Consequently we love our clients. And they love us. Our relationships are important. And continue long after your wedding day. So see why our couples trust LiFi Media Production. 
Above all contact us now and become our next happy couple. Moreover, we will show you why you MUST HAVE wedding videography!
Allie + Ryan Wedding
Highlight Film

- September 10th, 2022
Cinematic WEDDING
VIDEOGRAPHY
Capture your wedding day. With quality audio, video, and lighting. For example, wedding photography captures moments. But wedding videography records the voices. Secondly, the emotions. Lastly, vows as they were on your wedding day. Therefore, don't feel regret. But instead relive your wedding day over. And over again. And you will be glad you hired us.
Our storytelling is authentic. But heartfelt. And emotional. Because our style is visually pleasing. We are trained to film candidly. But we also capture important moments! So learn more about us. And visit the about us page.
DOCUMENTARY Wedding
Videography
Wedding Videography is where we excel! And we chase love stories all across New England. But when you hire us for wedding videography. First, we focus on capturing the maximum amount of audio and video. But we stay out of the way. Therefore we can retell your love story. But without being disruptive.
So contact us to preserve your wedding memories. And for years to come you will cherish them. And ensure they are never forgotten.
Here is where we provide wedding videography. And where we have filmed weddings. But we are more than open to discussing traveling. Most importantly we will film where you are getting married!
Get Our Free
WEDDING VIDEOGRAPHY

ebook!
This is for engaged couples. And to educate on wedding videography. Therefore this can help you understand filming a wedding video. But if you weren't planning on getting a wedding video. Then you should at least read this. And if after you still aren't sure. Certainly schedule a call with us. And we can walk you through the process. And explain what we can and cannot do. So click the button below. And take advantage of this FREE resource!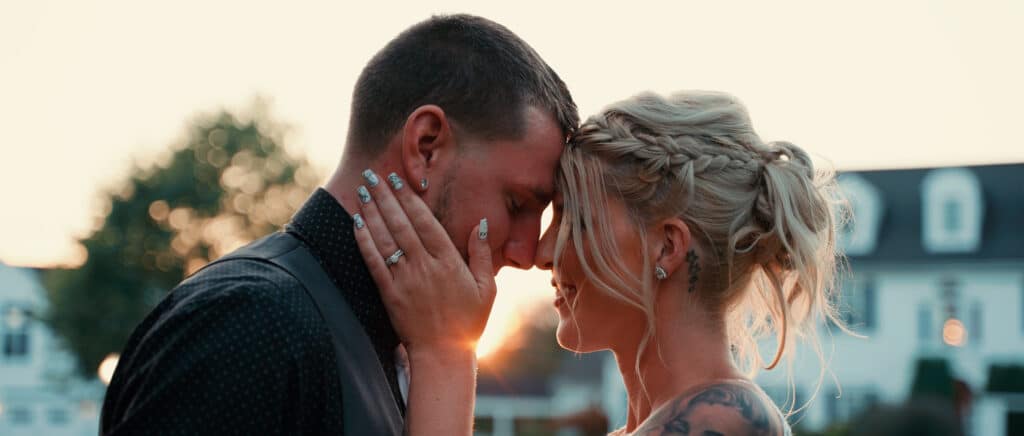 Unobtrusive WEDDING
VIDEOGRAPHY Process
We capture your wedding day moments. But naturally as it unfolds. And we tell your story. But with the leading wedding videography techniques. Then with our experience we catch all the details. But without getting in the way. Because we want you to enjoy your wedding day without interruption. 
Also we do not over book. Therefore our availability is limited. Because that way you have our full commitment. And attention during your wedding. For instance we only book a set amount of weddings. And we can deliver excellent quality wedding videos. But with a very quick turnaround. So don't delay. And contact us today for a free consultation
CINEMATIC WEDDING VIDEOgraphy

IN NH, MA & ME
Working with Mike was an absolute pleasure! My husband and I had very few ideas for our vision at the start of the planning process. Mike was so helpful in guiding us and giving great ideas that added to our special day which we never would have thought of otherwise. He was attentive, professional, and highly responsive throughout the whole process. We could not be happier with our final wedding highlight film, and we have gotten so many compliments from friends and family! Thank you again Mike!!
Chantelle Montminy-Semple
October 9, 2022.
It was an absolute pleasure working with Mike. I'm a stand-up comedian and I hired Mike to film 2 sets at a comedy club in Boston. His quality, both video and audio were dope. My expectations were surpassed. Not only is the quality great, but his communication is professional and even wanted to make sure I was all set with editing. Cannot recommend enough!
Dominic Smith
July 28, 2022.
Our agency hired Mike at LiFi Media Production to produce a couple TV commercials and social media videos. They made the process so easy, communication was clear, Mike was professional and added an essential creative element. The final product was outstanding and our client was very happy. We will certainly be working with LiFi Media in the future.
Linda Fanaras
July 11, 2022.
Extremely happy with my branding video from LiFi Media Production. Mike was very responsive and easy to work with. His filming and editing skill are excellent and I'm excited to have a great branding video for my website.
Paula Sacco
July 10, 2022.
Mike helped our band with a video for an electronic press kit. It was way beyond what I was hoping for. OUTSTANDING WORK and will be hiring LiFi again for other projects.
Bob Nasella
May 12, 2022.
I cannot say enough about Lifi Media Production. Mike went ABOVE and BEYOND in every single aspect of shooting for my New Years Eve Wedding. From meeting me the night before during the rehearsal at the church to check the lighting, from driving from three different towns throughout the day to capture every important moment. He even drove 8 hours to surprise us with a recording of my mother in laws voice in our highlight video. Not to mention I received a video in less than a week, and my high light video in two weeks.... I have friends who didn't get footage for over half a year. I HIGHLY recommend Lifi Meda Products. And i HIGHLY recommend budgeting for a videographer. Thank you again for everything Mike!!
Ryann Healy
May 12, 2022.
Mike does a fantastic job. He is very professional. We have signed up for Monthly videos with Lifi Media and I look forward to working with Mike through out the year.
Matthew Daly
March 7, 2022.
Used them to do a short film of our tree service. Professional🔥
Tom Saad
February 28, 2022.
It was an absolute pleasure working with LiFi Media. Mike made our vision even better than we expected! Super professional, super talented and we will definitely be working with them again!
Leah Connor
February 16, 2022.
Mike is a true professional and his video productions are top notch. I run Ethos and Able Creative out of Manchester, so we partner with a lot of different freelancers, video producers and photographers, and I can confidently say Lifi Media is a top shelf option for businesses looking to refresh their content, or just look more professional. In the digital world we're living in, video content is king, so hit him up for your next move to move your business forward!
dante marino
February 3, 2022.