LiFi Media Production is a video production company built on the philosophy that every video is a work of art and should be treated as such, not just another piece of media. Unfortunately, this approach seems to be a novelty in the industry rather than the norm. But this is why people come to us.
We wanted to spread awareness about the quality of our services to a wider audience. This was when we decided to create a vendor profile on a company listings website called Clutch. Reviews have always had a potent power of attracting people because of their inherent transparency.
After spending some time on the platform, we're glad to report we've earned quite a collection of high-quality reviews from our clients. We're currently averaging five-star ratings across all our reviews, with the latest published mid-July.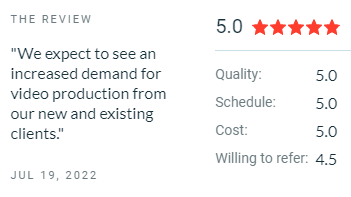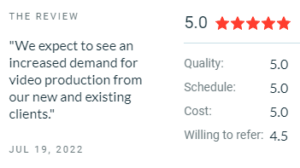 Thanks to the cumulative score and reputation we now have from our reviews, we now hold the #1 spot on the Top Video Production companies in New Hampshire. This is a huge step in the right direction for our team because these listings greatly promote our team on a bigger scale.
The added page provides potential clients with another venue through which they can discover our work. Our placement in the rankings also quickly communicates the quality of our services even without our input. It takes care of a lot of the leg work from our end in terms of marketing and outreach.
This doesn't mean we'll be taking our foot off the gas though. We now have a better idea of where we stand in the industry in relation to our competition. Our team has all the skills and experience to get to the top, all we need is the opportunity to show what we can do on a bigger stage.
We create professional quality videos and films for broadcast and non-broadcast platforms. Our process is simple and open to collaboration or providing full-service video production solutions. We have multiple options for video production packages and can work within most budgets. We specialize in corporate video, interviews, and brand video.
Discover why our services are getting so much praise from both clients and third-party platforms by visiting our website. We'd also love to hear directly from you if you have any questions or inquiries about our operations. Please contact us through phone, email, or get a free estimate by filling up the form on our page.